Accessory Agenda is a global website which has been founded by accessory expert Kimmie Smith. This accessory driven website offers its readers with the very best from the worlds of music, fashion, beauty, style and lifestyle and showcases some of the best daily picks with a particular focus on accessories and their fashion counterparts. Prior to being branded as Accessory Agenda, Kimmie had begun this website as Kitten Lounge in the year 2002. Over the years, she not only managed to take the website to new levels, but she also managed to make this maglog styled website one of the first resource guides for countless women across the globe.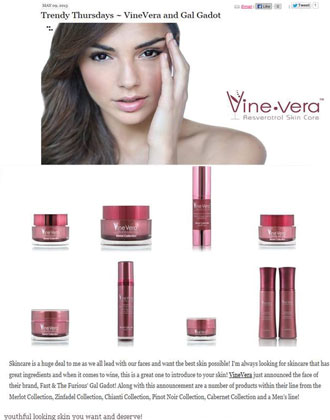 In an article titled "Trendy Thursdays – Vine Vera and Gal Gadot", Kimmie tells her readers that skin care is very important to her because she leads from her face and wants to enjoy the best skin possible. Kimmie introduces Vine Vera Skincare to her readers and talks about our announcement of Gal Gadot as the Vine Vera Brand Ambassador. She also mentions a few of Vine Vera's most popular collections in this article.
Vine Vera Skincare would like to thank Kimmie for featuring our brand on her website and introducing our collections to her readers.