Examiner.com was launched in the year 2008 as a news, entertainment and lifestyle network that offered readers with excellent insights into the worlds of news, lifestyle, fashion, technology, beauty, skin care, technology, entertainment, travel and leisure. The website now boasts of more than 20 million monthly viewers all over the world and it is powered by individual examiners who are experts in their own professions and spheres. Over the years, examiner.com has emerged as a source for the freshest, most interesting and unique content on the internet.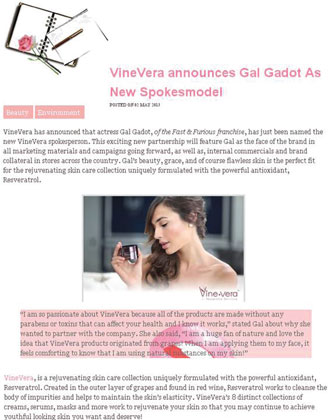 In an article titled "8 great gifts for mom this Mother's Day", examiner Tiffany Booth talks about the best gifts to give to your mother on Mother's Day. Tiffany is an award winning writer based out of Palm Springs, California. She writes for a number of websites and she has an excellent background in fashion, modeling and beauty. In this article, Tiffany features the Vine Vera Nail Kit and terms it as an "awesome nail kit from Vine Vera which is an absolute must have". Tiffany goes on to talk what the Vine Vera Nail Kit has to offer and highlights the presence of Resveratrol, the red wine anti-aging ingredient, in this product. Tiffany tells her readers that their moms are sure to appreciate the Vine Vera Nail Kit as the perfect little set to touch up their nails in between manicures.
Vine Vera is delighted to have its products featured on Examiner.com and we would like to thank Tiffany for her beautiful description of the Vine Vera Nail Kit. Customers wanting to check out this exciting Nail Kit from VineVera can visit the nearest Vine Vera store.