Before indulging in the wonders of Vine Vera's Resveratrol based products, how about finding out more about the different Vine Vera Collections that you can choose from? Each Vine Vera Collection caters to a different type of skin and helps out with different skin issues. Each collection from Vine Vera Skincare also contains Resveratrol and helps you with anti-aging and younger looking skin. So, before you purchase VineVera products, find out which products and collections can suit your skin and your skin issues the best.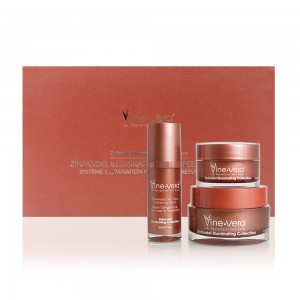 The Zinfandel Collection
The Vine Vera Zinfandel Collection contains four exciting products that can bring about a huge difference to the overall look of your skin. This collection includes a cream, a serum, and two of our latest, Zinfandel Illuminating Petal-Peel System and Resveratrol Zinfandel Illuminating Pre-Mask. It has been formulated to give you a better-looking skin tone.
---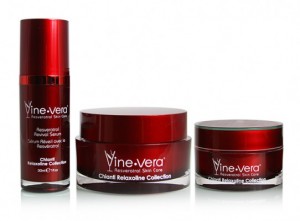 The Chianti Collection
The Vine Vera Chianti Collection is popularly known as Vine Vera's "warming collection". This unique collection contains an exciting set of products which heat up when they come in contact with your skin. This not only helps your skin to enjoy the wonders of the ingredients contained in the products, but also helps you to pamper yourself to its soothing sensations. The Chianti Collection contains three products that combine beautifully to reduce the harsh feeling that your skin experiences on a daily basis. Like the Chianti wine, this collection is nothing if not bold.
---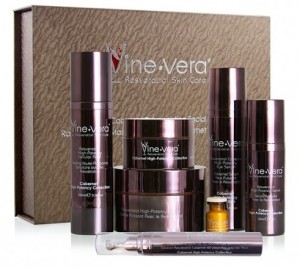 Cabernet Collection
The Vine Vera Cabernet Collection has been formulated using a rich combination of vitamins, minerals, nutrients and antioxidants that help you to soothe the appearance of your dry skin and reduce the look of the signs of aging. The collection shall leave your skin looking radiant and feeling silky smooth. It is one of the most expansive Vine Vera collections and it offers eight products that can cater to most aspects of your skin care routine. Possibly one of our most popular collections, the Vine Vera Cabernet Collection gives you the perfect solution for your daily skin care routine. We like to think that our Cabernet Collection is as complex as the wine that it has been named after.
---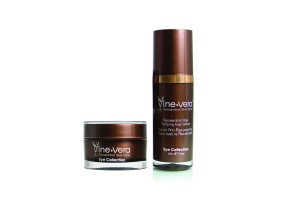 The Eye Collection
The Vine Vera Eye Collection has been designed to minimize the appearance of issues like fine lines, wrinkles, puffiness and dark circles from your eye area. It consists of two products that can be used on their own or can be added to your routine as an entire collection. Since the eye area is more delicate, it needs more potent products for proper protection. The VineVera Eye Collection gives you the right amount of pampering for your eyes.
---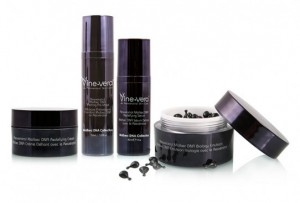 The Malbec DNA Collection
The Vine Vera Malbec DNA Collection shall help you to transform the appearance of your skin. This product contains ingredients like collagen and hyaluronic acid and it works wonders in giving you a younger and glowing appearance. The products in this collection have been designed to give your skin a smoother and softer look in the form of unique anti-aging solutions for your skin.
---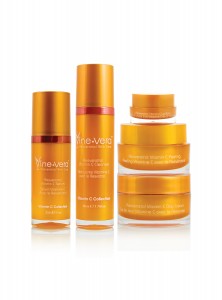 The Vitamin C Collection
Studies have shown that Vitamin C works wonders as an antioxidant when it comes to protecting your skin from free radical damage. The Vine Vera Vitamin C Collection is well loved by VineVera customers having easily-irritated skin and it is also known to be one of our most popular collections. Apart from offering soft and gentle solutions, this collection also helps you to minimize the look of fine lines, wrinkles, giving your skin a soft and luxurious feel.
---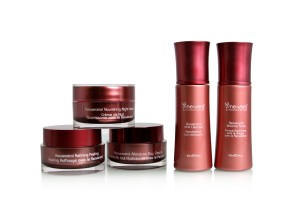 The Merlot Collection
The Vine Vera Merlot Collection has been inspired by the wine that it is named after. This collection contains ingredients which protect the skin from free radical damage and it also helps you enjoy a beautiful look. The Merlot Collection is our most versatile collections and it is very popular among VineVera customers with dry or rough skin. If you're looking for an all-in-one Vine Vera collection, the Merlot collection is the one to try out.
---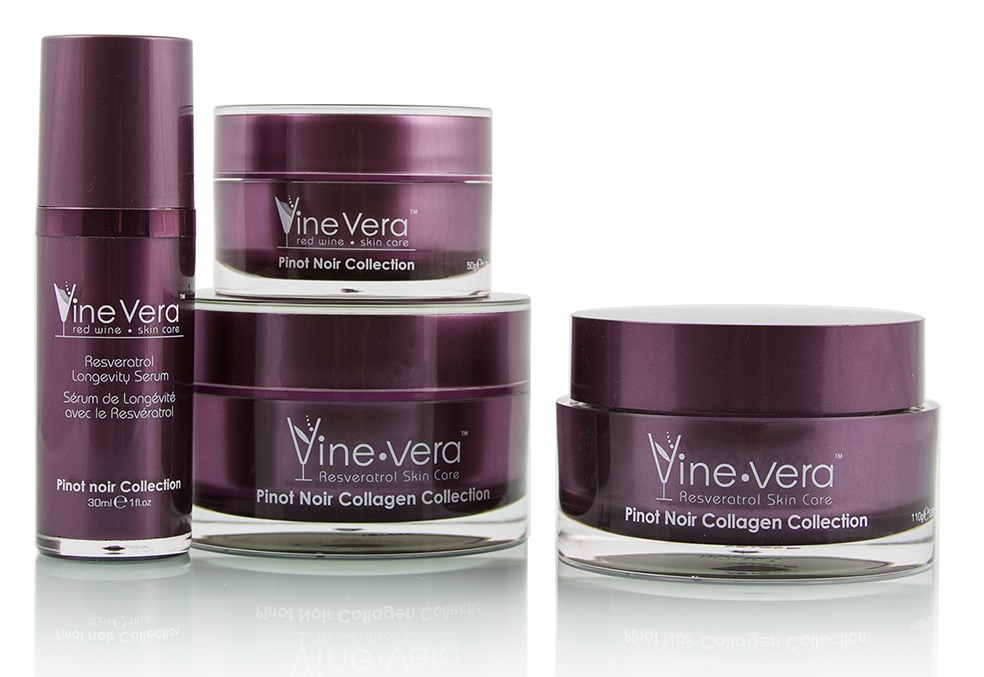 The Pinot Noir Collection
The Vine Vera Pinot Noir Collection helps you to rejuvenate the way your skin looks. It can be easily added to your daily skin care routine. Using this collection from Vine Vera helps you to ensure that skin care is no longer a chore. The Pinot Noir Collection shall help you to get a beautiful look, erase the look of aging signs and make your skin a glowing appearance. The collection is famous for its richness, scents and freshness, just like the wine it is named after.
---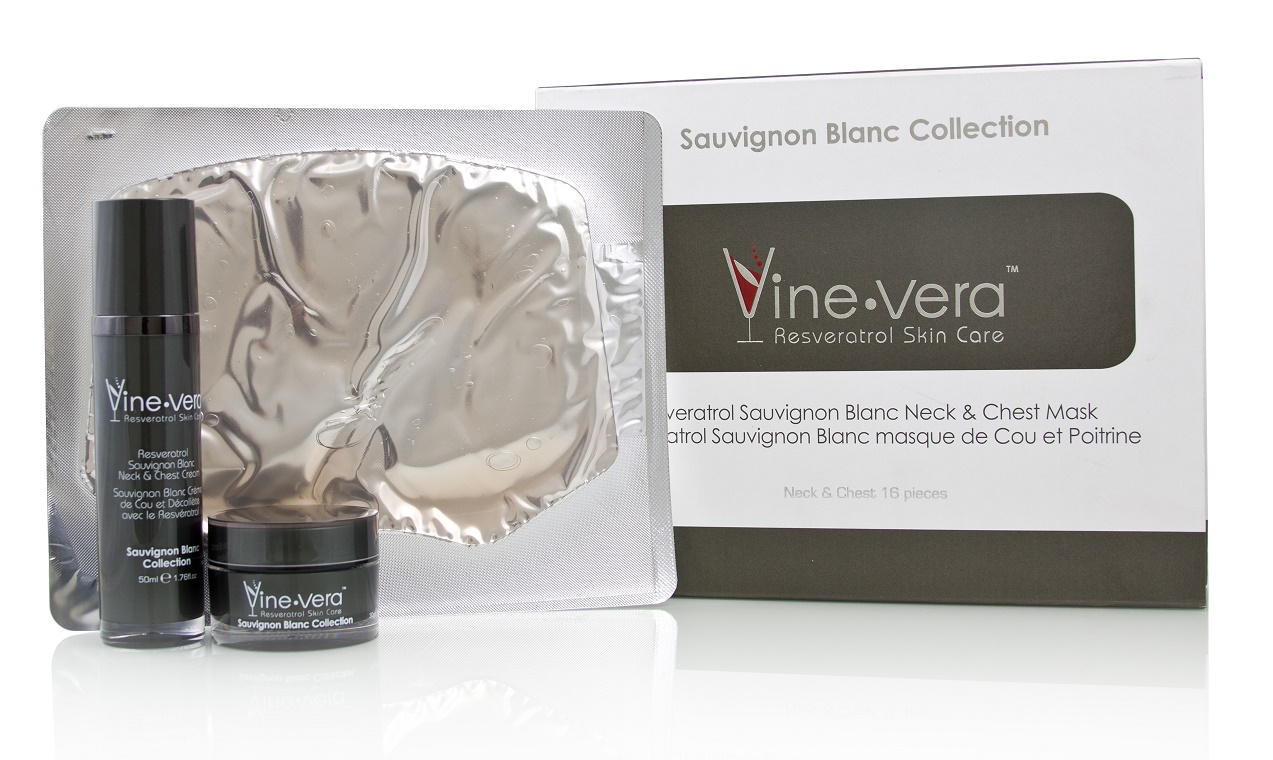 The Sauvignon Blanc Collection
The Vine Vera Sauvignon Blanc Collection is unlike any other collection in the world of skin care. This VineVera collection has been formulated to help you take care of two of the most ignored areas of skin care – your neck and your chest. The Savignon Blanc Collection contains ingredients like collagen, glycerol, hyaluronic acid and resveratrol and it ensures that you can wear that deep V dress with complete confidence.
---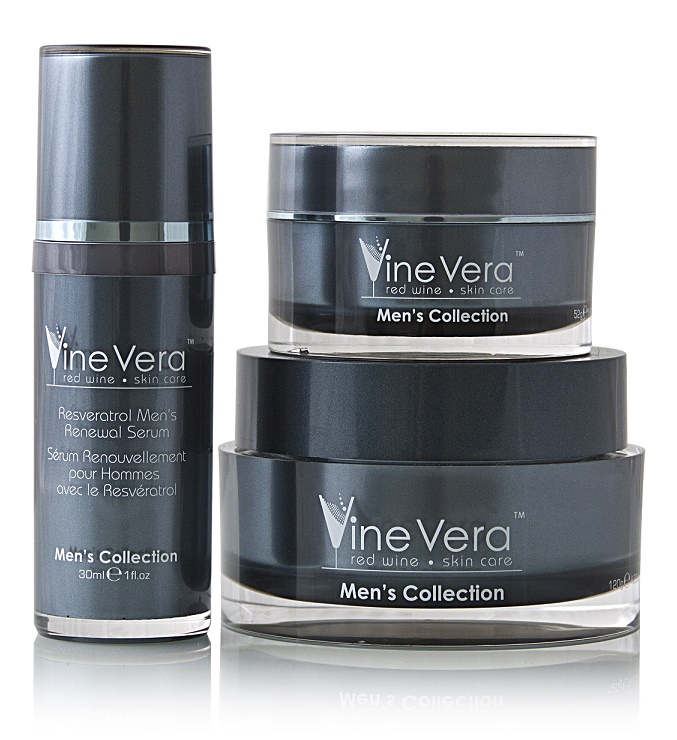 The Men's Collection
Whoever said that skin care is just for women. Men also have the right to enjoy luxury skin care products for their skin. The Vine Vera Men's Collection has been formulated to deal with the male skin and take care of the grooming needs of men. This collection contains a pre-shave serum, an after shave balm and a renewal mask. Using the collection not only helps you to tackle issues like razor burns and shaving irritation, but it also helps you to enjoy youthful and vibrant looking skin.
---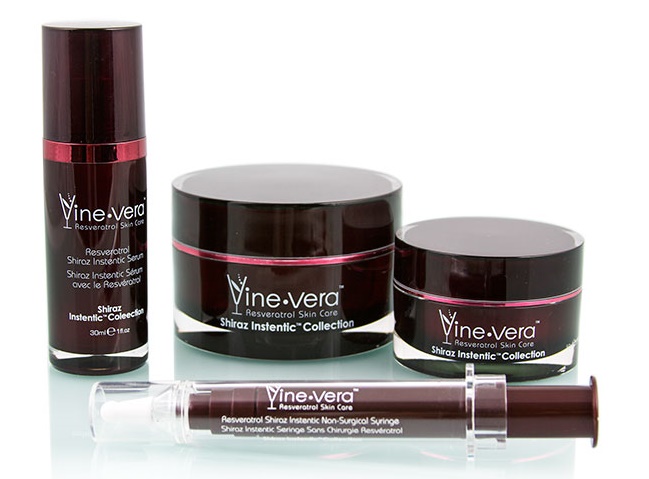 The Shiraz Instentic Collection
The Vine Vera Shiraz Instentic Collection focuses on offering a firmer look. This collection revolves around the ingredients DMAE and resveratrol. Both ingredients help your skin to look softer and also assist in diminishing the appearance of fine lines and wrinkles. The Shiraz Instentic Collection is one of the most robust collections from Vine Vera Skincare. It not only offers immediate results, it also allows you to look younger for a longer period of time.