Just Luxe is a luxury web publication that strives to offer its viewers with information and analysis of all sorts of luxury goods, services and travel. The website features more than 40 categories of products including yacht and aircraft charter services, fashion, real estate, luxury travel, and more. The website releases hundreds of articles each month on a variety of topics and it offers solutions to almost all sorts of problems related to lifestyles and fashion to its readers.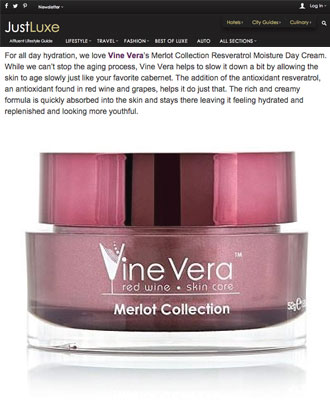 In an article titled Fall Beauty Makeover, author Kellie Speed talks about the best beauty products for the fall season. She features the Vine Vera Resveratrol Moisture Day Cream as an ideal product for all day hydration and mentions that this product from Vine Vera Skincare can help to slow down the signs of aging because of the presence of Resveratrol, the red wine antioxidant. Kellie also describes the Resveratrol Moisture Day Cream as a product that has a "rich and creamy formula which gets absorbed into the skin and makes it feel hydrated, replenished and more youthful".
Vine Vera would like to thank Kellie and Just Luxe for introducing the Vine Vera Resveratrol Moisture Day Cream, one of our highest selling moisturizers, on the Just Luxe website.