Beauty Style Watch is your go-to site for all things to do with beauty, skin care, fashion and celebrity styles. The website offers its readers with unique insights into all sorts of products and provides them with genuine reviews on what they can expect when they purchase the product in question. Beauty Style Watch never writes about a product until and unless its authors have tried and tested it and it always offers its readers with an unbiased and honest review.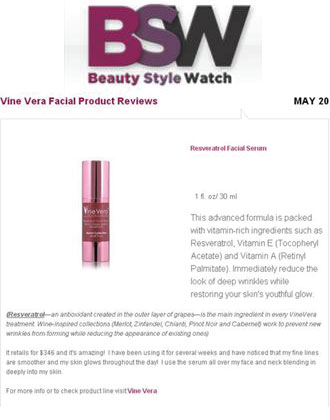 In an article titled "Vine Vera Facial Product Reviews", the author introduces the Vine Vera Facial Serum and describes it as "an advanced formula that is packed with vitamin-rich ingredients such as Resveratrol, Vitamin E and Vitamin A. The author also mentions that this product should help in immediately reducing the look of deep wrinkles while restoring the skin's youthful glow. The author tells readers that she has used the Vine Vera Facial Serum for several weeks and noticed that her fine lines seem smoother and her skin glows throughout the day.
Vine Vera would like to thank Beauty Style Watch for offering its review on the Vine Vera Facial Serum and we hope that our customers also found our Vine Vera serums to be equally effective.