StyleBlazer is a New York City based website that targets the style-driven, chic woman with its unique and original content, exciting videos, a stimulating dose of trends, excellent beauty tips, celebrity style reports, insights on up and coming brands and details about the most intriguing designer profiles. Whether one is looking for street style fashion or vintage fashion or whether one is looking to splurge on the finest luxuries, StyleBlazer is considered to be the Number 1 Fashion Obsession.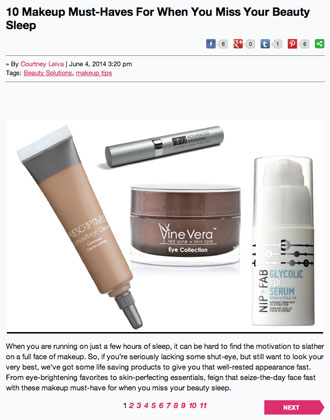 In an article titled "10 Makeup Must-Haves for When You Miss Your Beauty Sleep", author Courtney Leiva talks about some of the best ways to save your face from looking torrid after a poor night's sleep. From skin perfecting essentials to eye brightening treatments, this article covers all the essentials that can help you look beautiful even when you are running on a few hours sleep. In this article, Courtney features the Vine Vera Resveratrol Eye Collection Dark Circle Eye Cream at the number 3 position. She defines the Vine Vera Dark Circle Eye Cream as the ideal product to beat the "raccoon eyed look" and states that this product is infused with skin-loving vitamins for revitalized-looking peepers.
Vine Vera would like to thank StyleBlazer for featuring our Dark Circle Eye Solution, a must-have for women suffering from dark circles. This unique product is a part of our Resveratrol Eye Collection and it can work wonders in diminishing the appearance of dark circles to give you beautiful looking eyes.