Just Luxe is a luxury publication that tries to offer an objective analysis on luxury products and services to the consumers of luxury goods, travel and services. The website covers the fields of lifestyle, fashion, beauty, travel, city guides, cuisines, food and skin care and is famous for posting hundreds of exciting articles for each field every month.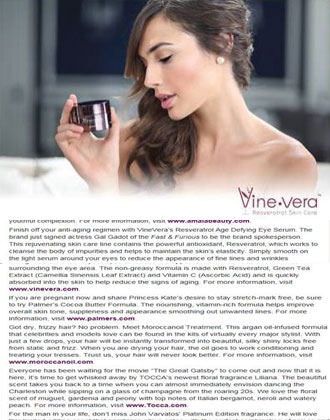 In an article titled "The Season's Hot New Beauty Products", author Kellie Speed showcases some of the hottest beauty products in the market. Kellie is a native Bostonian who has an experience of more than 20 years in the field of writing. Kellie has contributed works to a number of publications like The Boston Globe, Mohegan Sun's Legends, Citybuzz and The Boston Herald. She is also famous as a Boston restaurant writer for the Gayot Travel Website. One of the brands that Kellie features in this article is Vine Vera. She mentions that Vine Vera products contain ingredients like Green Tea Extracts, Resveratrol and Vitamin C and they get quickly absorbed into the skin to reduce the signs of aging.
Vine Vera would like to thank Kellie and Just Luxe for this exciting article and for featuring our products in their list of the season's hot new beauty products.