The Financial Times is believed to be one of the leading news organizations in the world that is famous for its accuracy, authority and integrity when it comes to news reporting. It offers its viewers with essential comments, news, analysis and data for events and happenings all over the world. The Financial Times is believed to have a combined digital and print circulation of more than 665000 subscribers and its subsidiary FT Education serves 37 of the top 50 business schools in the world.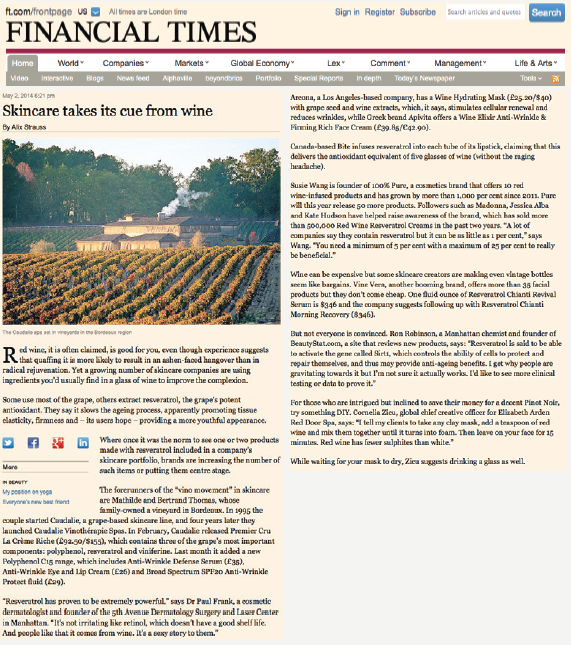 In an article titled "Skincare takes its cue from wine", author Alix Strauss talks about the importance of Resveratrol when it comes to skin care. He mentions that Resveratrol apparently slows down the aging process by promoting tissue elasticity and firmness to give users with a more youthful appearance. Alix also mentions that Resveratrol based products have now become an integral part of the world of skin care and there are entire collections, brands and treatments that center around Resveratrol. The author features Vine Vera as a booming Resveratrol based brand that offers its users with more than 35 Resveratrol based luxury facial products. He particularly mentions the Chianti Revival Serum and the Chianti Morning Recovery.
Vine Vera would like to thank Financial Times for its refreshing article on wine and skin care and we would also like to thank Alix for featuring products from the Vine Vera Chianti Collection, one of the most exclusive Vine Vera collections.