Los Angeles Times, also known as The Times, is a daily newspaper that is published in LA ever since the year 1881. It is famous as one of the largest metropolitan newspapers as well as one of the most widely distributed newspapers in the US. The Los Angeles Times is also believed to be one of the most respected newspapers in the country and it is an ideal source of daily news and more from the US and all over the world. This prestigious daily actually boasts of a Sunday circulation of more than 963000 people.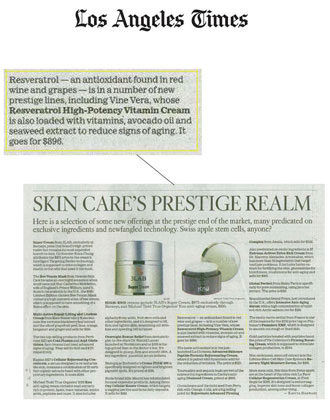 In an article titled "Skin Care's Prestige Realm", the Los Angeles Times reviewed some of the best skin care products in the prestige end of the market, talked about the latest skin care ingredients and offered insights into the latest technologies. One of the products highlighted in this list of exclusive products was the Vine Vera High-Potency Vitamin Cream. Los Angeles Times described this exciting Vine Vera product as a product that is "loaded with vitamins, avocado oil and seaweed extracts to reduce the signs of aging". The article also introduced Vine Vera Skincare as a prestige line that contains Resveratrol – the antioxidant found in red wine and red grapes – in its products.
Vine Vera is elated to be featured in the LA Times exclusive "Skin Care's Prestige Realm" and we hope to live up to the high standards set by our brand. To enjoy a free product demonstration of the Vine Vera High-Potency Vitamin Cream, all you need to do is walk into the nearest Vine Vera Store.