Terry's Spa is a digital magazine run by Terry Herman which offers readers with news, product reviews and featured topics of interest. Terry has been a blogger since the year 2009 and she has become quite popular as a beauty and skin care expert with many people believing and trusting in her product reviews and advice.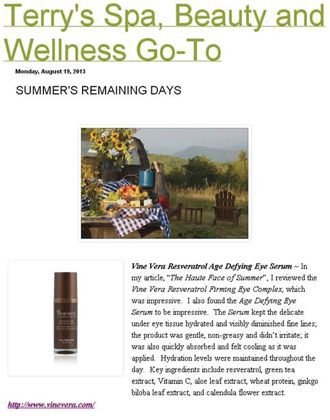 In one of her posts titled "Summer's Remaining Days", Terry showcased some of the best products to help protect the skin from the damage caused by the sun. Terry says that it is important to take proper care of the skin even after the summer months because things like sum damage, humidity and heat are still very much a reality. Terry talks about using the right skin care products and hydrating the skin. One of the products featured by Terry in this article is the Vine Vera Age Defying Eye Serum. Terry says that the Vine Vera serum keeps the under eye tissue hydrated and it also diminishes fine lines. She reviews the product as non-greasy, non-irritating and gentle. She also praised the Vine Vera Age Defying Eye Serum for the cool feelings that it offered.
Vine Vera would like to thank Terry for her review of the Vine Vera Age Defying Eye Serum. This serum is a part of the Vine Vera Eye Collection and it helps you to take proper care of the delicate skin around your eyes.