SuperGlamNews allows its readers to dive into the world of glamor and fashion by offering them with a glamor guide to the latest from the worlds of beauty and fashion. The website gets inspired from high fashion and celebrity styles and tries to replicate those ideas for the everyday girl. It is famous for mixing affordable and high end products to ensure that every woman can enjoy a glamorous day, irrespective of her budget.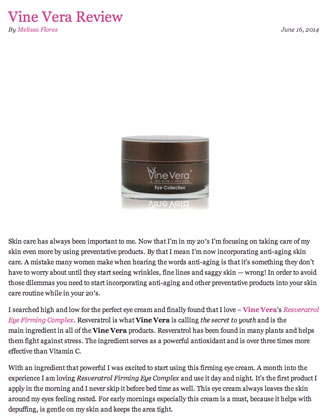 In an article titled "Vine Vera Review", author Melissa Flores reviews the Vine Vera Resveratrol Firming Eye Complex and defines it as "the perfect cream" that is infused with the powers of Resveratrol, a powerful antioxidant that is known to be three times more effective than Vitamin C. Melissa's passion for blogging was ignited during a computer journalism class in college and she made the most of her opportunity by combining her love for beauty and writing in a single channel. Today, her blog talks about all sorts of product reviews, covers celebrity interviews and covers a variety of events as well.
In this article, Melissa says that she was really excited to start using the Vine Vera Firming Eye Complex because of the presence of Resveratrol. She mentions that she fell in love with the product after using it for a month and now uses it every morning and night. In this piece, Melissa writes that the Vine Vera Firming Eye Complex made her feel confident that her eye area would remain bag-free and firm for a long time and that it would help her with depuffing her eye area as well.
Vine Vera is delighted to hear that our product helped Melissa to beautify her eye area and we hope that it does the same for her readers as well. Those wanting to try out the Vine Vera Firming Eye Complex can do so at the nearest VineVera store.