Just Luxe is a popular online publication that offers its readers with the latest analysis and information on luxury goods, luxury services and luxury travel. It features about 40 different categories of products such as fashion, travel, real estate, beauty, and more. Just Luxe offers its vast and varied reader base with hundreds of articles in each category to ensure that its articles are as unique and different as its readers.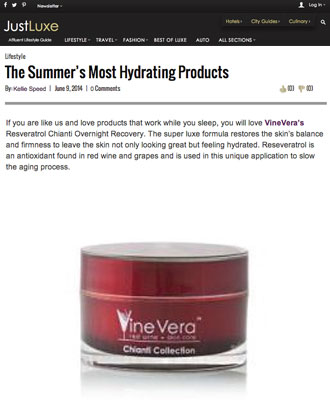 In an article titled "The Summer's Most Hydrating Products", author Kellie Speed tells her readers that if they are anything like her and if they love products which work while they're sleeping, they will fall in love with the Vine Vera Chianti Overnight Recovery. Kellie describes this product as a super luxe formula which helps to restore the skin's balance and firmness so as to leave one with hydrated and great looking skin.
VineVera would like to thank Kellie for her refreshing insights on the Vine Vera Chianti Overnight Recovery and we would like to thank our friends at Just Luxe for devoting yet another season to Vine Vera products.