I Am The Makeup Junkie is a beauty blog run by beauty enthusiast Marie. Marie contests to having the largest makeup collection in the Western Hemisphere and she is famous for being a huge makeup fanatic. Marie, an esthetician and makeup artist of 21 years, converted her dream into a reality with the help of I Am The Makeup Junkie.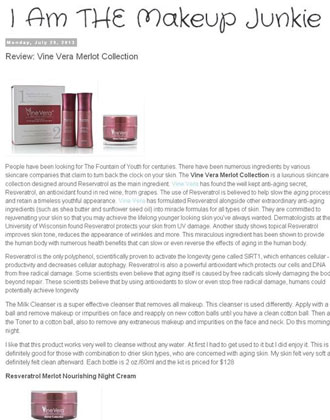 In an article titled "Review: Vine Vera Merlot Collection", Marie reviews the Vine Vera Merlot Collection, one of our most popular collections. Marie introduces Vine Vera as a luxury skin care brand that uses Resveratrol as its main ingredient and goes on to talk about some of the main benefits that Resveratrol has to offer to the skin. In this article, Marie reviews each product of the Merlot Collection individually and also offers her readers with a beautiful how-to for each product. Marie found the Merlot Collection to be really beneficial for her skin and she recommended this collection for people with dry skin or aging skin. She also wrote that her skin felt very soft and clean after using the Merlot Collection.
Vine Vera would like to thank Marie not only for her delightful review, but also for the beautiful pictures and in-depth how-to. All those of you wanting to try out the Vine Vera Merlot Collection can enjoy a free product demonstration at the nearest Vine Vera Store.