Examiner.com is a website that is powered by thousands of self-motivated, independent contributors who manage to express their feelings and emotions and showcase their expertise on a given topic through a beautiful mixture of words and photos. Their knowledge is often attributed to their expertise, their experiences and their location. Examiner.com serves as a daily entertainment and news hub and it also offers several regional editions.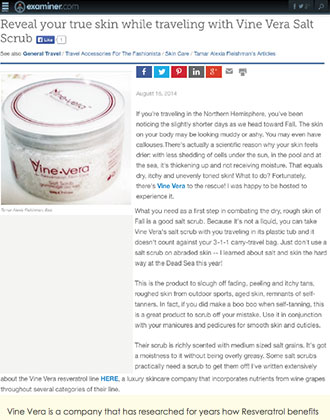 In an article titled "Reveal your true skin while traveling with Vine Vera Salt Scrub", Examiner Tamar Alexia Fleishman talks about the Vine Vera Salt Scrub and the advantages that it has to offer. Tamar is a professional writer who has been associated with the world of writing for more than a decade. She has interviewed numerous celebrities, written about premium luxury destinations and reviewed some of the best restaurants out there. She has also featured a number of exciting product reviews and food and cocktail recipes over the years.
In this article, Tamar talks about the importance of a good salt scrub when it comes to combating rough or dry looking skin. She describes the Vine Vera salt scrub as an ideal travel friendly companion and the perfect product to slough away fading or itchy tans, reduce roughed skin, deal with aging skin and take care of the remnants of self-tanners. She also mentions that the Vine Vera Salt Scrub has a rich scent and that it offers a great deal of moistness without being overly greasy.
Vine Vera would like to thank Tamar for her refreshing review about the Vine Vera Salt Scrub and Examiner.com for featuring our product on their highly popular website. We hope that Vine Vera customers have found the salt scrub to work out the way Tamar has described them in her article.