The Fashion Spot emerged as the first online community for fashion industry influencers, designers and stylists in the year 2001. Today, it is believed to be the largest and one of the most influential social forums for intelligent discussions pertaining to the fashion industry. The Fashion Spot is famous for featuring content that inspires an ever growing audience of trend influencers. With an in-depth coverage of topics like fashion, lifestyle, celebrity trends, skin care and beauty, The Fashion Spot now manages to attract more than 4.3 million viewers each month.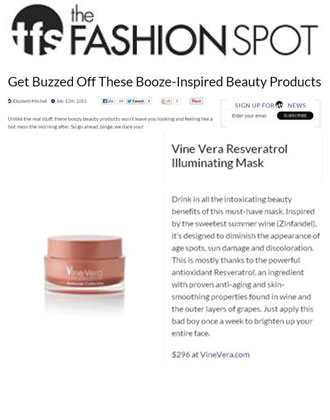 In an article titled "Get Buzzed Off These Booze-Inspired Beauty Products", author Elizabeth Mitchell talks about some of the best boozy beauty products that can help you to transform your looks. Elizabeth tried her hand at fashion PR before realizing that all she wanted to do was right. She is also famous for her contributions to blogs like The Luxury Spot and SheKnows. One of the booze inspired beauty products that Elizabeth features in her article is the Vine Vera Resveratrol Illuminating Mask. Elizabeth states that this product can help to diminish the appearance of age spots, discoloration and sun damage because of the presence of Resveratrol. She advises readers to apply the product once a week to brighten their facial skin.
Vine Vera is delighted to be featured in this unique list of boozy beauty products. We would like to thank Elizabeth and The Fashion Spot for this honor. Those of you wanting to try out the VineVera Resveratrol Illuminating Mask can enjoy a free product demonstration at the nearest Vine Vera Store.