Cheyenne Headrick is a Style & Beauty Editor and Editorial Planning Manager at Chic Galleria. She graduated from the University of Washington with an English degree and loves to watch comedies, read and check out interior designing topics in her free time. In an article that talks about the summer beauty must-haves, Cheyenne listed a few of her favorite products that can help to minimize the damage caused by the sun without compromising on your tan. She states that all products mentioned by her on this list are ideal for women who have sun damaged skin or women who are looking to save their skin from sun damage.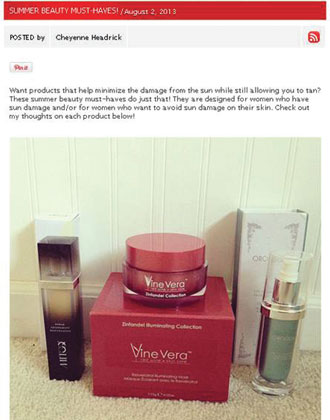 Cheyenne lists the Vine Vera Resveratrol Illuminating Mask as her Number 1 product in the list. She says that the Resveratrol Illuminating Mask is unique because of the use of Resveratrol. She also mentions that the presence of Resveratrol helps this product to diminish the appearance of age spots, discoloration, wrinkles and sun damage. Cheyenne says that she loved the Resveratrol Illuminating Mask and found her skin to be very smooth after using the product.
Vine Vera is delighted to be featured on the very top of Cheyenne's list of summer beauty must haves. Each Vine Vera product and collection contains Resveratrol, an ingredient that can protect your skin from the damage caused by the harmful UV rays of the sun.